Jelena Krstić from Niš, master artist and icon painter with the blessing of the Serbian Orthodox Church.
Born on November 4, 1989 in Split, Croatia. 
She lived for several years on the Montenegrin coast; there she met the beauty of Orthodox monasteries and then returned to Nis.
She attended the Art School "Djordje Krstic" in Nis, majoring in painting from 2004-2008.
She enrolled in painting studies in 2008 at the Faculty of Arts in Nis, at the Department of Painting, in the class of Professor Zoran Kostić. She completed her master's studies in 2014 at the same faculty in the class of Professor Bratislav Bašić and defended her work "Still Life in the Concept of the Contemporary".
After tha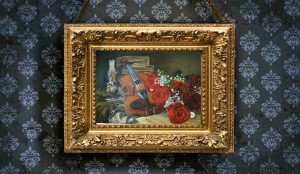 t, he decided exclusively on icon painting as the most beautiful expression of faith and painting.
He is a member of the Multimedia Association "Tsar Constantine" in Nis, with which he regularly exhibits his works.
Participated in several art colonies, in monasteries in Serbia; exhibited at
many joint exhibitions in Aleksinac, Nis and Belgrade, worked as a teacher of art culture at the Elementary School St. Sava in Nis and others.
Many of her icons are with Serbian clergy and adorn many Serbian monasteries. One of which stands out is the Icon of the "Assumption of the Blessed Virgin" and which is located on the bell tower in the church of the same name in Oreovica.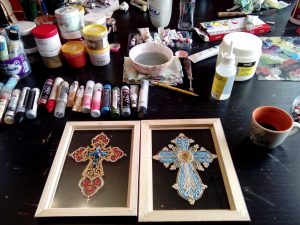 She also paints Orthodox crosses on glass, which you can see in the gallery, writes poetry, gives classes in drawing and painting, and also prepares for enrollment in the Academy and Art High School.
Beside all Jelena has Iconograph workshop for kids and adults  in her art studio but also online (Skype, WhatsUp, Messenger etc).